Product Description
Six-sided drilling machine is mainly used for horizontal,vertical drilling and slotting in various types of artificial panels, with small power spindle for slotting, solid wood panels, etc. Simple operation, fast drilling processing speed, with small spindle slotting, it is suitable for processing all kinds of modular cabinet-type furniture. Six-sided drilling machine can fix the workpiece in one clamping and multi-face machining. It simplifies the overall machining process of the workpiece, simplifies the process, improves the machining efficiency. It has also completely solved the problem that the complicated workpiece needs the error caused by multiple clamping, which reduces the work difference and improves the machining precision.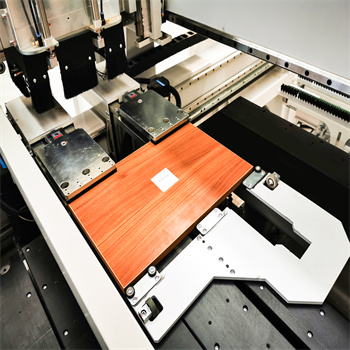 Feature:
Six-sided drilling machine with bridge structure processes six sides in a single cycle.
Double adjustable gripppers hold the workpiece firmly despite their length.
Automatic infeed without manual intervention.
The head is configured with vertical drill bits, horizontal drill bits, saws and spindle so the machine could perform multiple jobs.
Technical Parameter
Series
EHSA1224
Travelling size
4800*1750*150mm
Max Panel Dimensions
2440*1200*50mm
Min Panel Dimensions
200*50*10mm
Workpiece Transmport
Automatic in-feed structure
Workpiece Hold-down
Clamps
Spindle power
3.5kw*2
Travelling speed
80/130/30m/min
Drill bank configuration
21 vertical(12 top, 9 bottom)

8 horizontal

Driving system
Yaskawa/Innovance
Controller
 Excitech